Fiona Thomas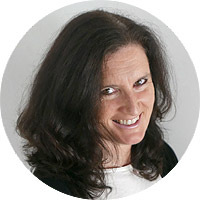 Chief Operating Officer
Fiona was born and brought up in Worcestershire, England. She went to Warwick University then got her first TEFL qualification and moved to Spain. Since then she has worked as an English teacher, Director of Studies and Coordinator of a University of Cambridge Upper Main Suite Exam Centre. She got her Diploma in TEFLA (International House Barcelona) in 1993 and the Advanced Diploma in Language Teaching Management (ESADE Barcelona) in 2000. She started working at Net Languages as the Director of Education and is now the Chief Operating Officer.
She has co-written the book: Managing Education in the Digital Age: Choosing, setting up, and running successful online courses.
Peter Loveday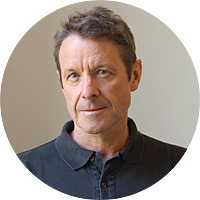 Head of EFL Materials Development
Peter was born and grew up in Queensland, Australia. He took a degree in Design Studies at the University of Queensland and worked in Australia, Britain and Spain. Subsequently, he settled in Barcelona where he took the University of Cambridge Diploma in English Language Teaching and worked as a teacher and teacher trainer at International House Barcelona, as well as a teacher and coordinator of the Servei Extern d'Idiomes, Escola d'Idiomes Moderns, at the Universitat de Barcelona. In 1998 he began working as a materials writer at Net Languages, and in 2004 took over from Scott Thornbury to become Head of EFL Materials Development.
Andy Castles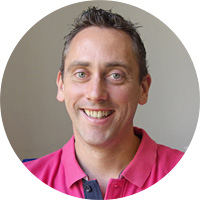 Lead Web Developer
Andy was born in Belfast, Northern Ireland. He graduated with a BSc. degree in Computer Science from Queen's University of Belfast in 1997. After graduating, he moved to Barcelona, where he worked for a short time as a freelance web developer. In 1998 he started working for Net Languages, programming interactive exercises. Since then, he has expanded his responsibilities to include database design, server-side development, network administration and server management. He now coordinates the technical team.
Isabel Ginés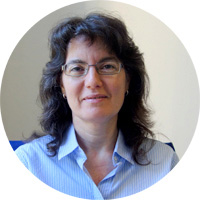 Head of Materials Development for Spanish as a Foreign Language
Isabel was born in Barcelona. She graduated in Philosophy and Education at Barcelona University in 1992, and, a year later got her certificate in teacher training for teachers of Spanish as a foreign language (ELE) at International House Barcelona. Since then, she has worked as an ELE teacher in Spain and in Germany. In 1998 she started working in the Teacher Training Department of International House Barcelona, and a year later she began to write materials for Net Languages' online Spanish course. She currently combines teaching and teacher training with creating online material and tutoring for Net Languages, along with being head of the Net Languages Spanish courses.
Ciaran Mc Dermott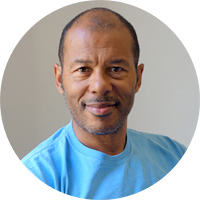 IT Development Coordinator
Ciaran was born in Dublin, Ireland, and graduated with a degree in Computer Science from Trinity College Dublin. After some years writing programs for British Airways in London, he decided to head for sunnier climes, taking on an English teaching job in Barcelona. Having received a diploma in TEFL, he took up a programming job with Net Languages in 1998, where he currently coordinates the development team.
Andy Henley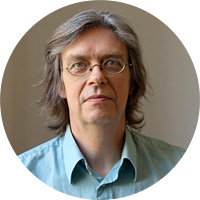 Sound Manager
Andy was born in Liverpool. He took a Psychology degree at Sheffield University and spent the next few years teaching English in various institutions in and around Barcelona, including International House Terrassa and International House Barcelona. Always a keen musician and sound recordist, he then took a master's degree in Sound Design at the University of Edinburgh. He is responsible for recording and editing the audio for the Net Languages courses, including writing the music and songs for the children's courses and making the sound effects for the animations and videos.
Trevor Bultitude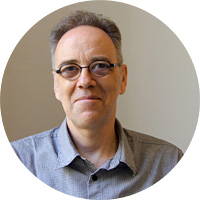 Video Manager
When he finished university in England, Trevor took the RSA Certificate in Teaching English as a Foreign Language and began work as an English teacher in Paris and Barcelona. His interest in the role of new technologies in education led him to take several courses at the Polytechnic University of Catalonia. Since then, he has worked as a video technician at the Winchester School of Art and in several other jobs related to video. He now works at Net Languages, where he makes videos for our online courses. He has recently completed an MA in Media, Culture and Communication at the University of London's Institute of Education.
Piet Luthi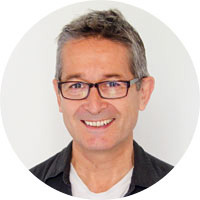 Graphic Designer
Piet went to school in Switzerland and the United States, before completing a BA in Near Eastern Studies (Arabic and Turkish) in Manchester, England, in 1976. He then trained as an EFL teacher and moved to Egypt, where he taught English for a total of eight years. During this period he took a year off to do a foundation course at the Sir John Cass School of Art, formerly City of London Polytechnic. He was employed at International House Barcelona until 2000 as a teacher of English and German to both adults and children, and as a teacher trainer. Since then he has been working at Net Languages as an illustrator.