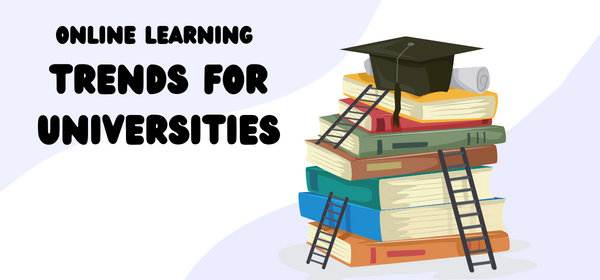 As we all know, because of the pandemic, probably all universities created some sort of online alternative to cater for their students' learning requirements during lockdown. Initially online solutions may have been considered as just a stop gap until students could return to the physical classroom. However, it now looks like 100% online degrees or online components as part of a degree are going to play an important part in university offerings from now on.
In this post we analyse what is happening.
What do the statistics say?
According to a report by BestColleges on online Education in colleges in the US (2022):
43% of administrators said their universities would offer online options for students in the future.
70% of students claimed that online education is better than or equal to on-site education.
95% of online program graduates said they would recommend online education to others.
90% of online course graduates said that their degree has had a positive return on investment.
60% of remote students (students who had registered for on-site courses but were studying remotely because of the pandemic) said they were likely to enrol in an online course after their campuses return to normal operations.
Although this is data for just the US market, the trend towards more demand for online courses and degrees is clear.
Why does this make sense for universities?
The obvious answer is that if higher education institutions want to be able to take advantage of the demand for online courses, they will need to expand their online offerings to match this demand.
In addition to this, online offerings open up new markets to universities. These markets are students who either don't want to study on university premises or can't study there due to limitations such as visas, costs, family or work commitments etc. By offering online courses, learning institutions gain access to a broader range of global students. See article by Higher Education Partners (UK).
Why does this make sense for students?
From a student point of view, the advantages are manifold:
According to Research.com flexibility and convenience are the two most important factors when deciding between an online course or an on-site course. Most online courses offer flexibility in terms of when students need to study and can thus fit around work, family, or other commitments.
Online education gives students access to world-class teaching, courses and degrees. They have many more options to choose from and can access these courses from the comfort of their own homes.
Online courses are significantly cheaper than attending a face-to-face course. In addition to the course costs, they can make substantial savings with living expenses, transportation etc.
And last but not least, online studies can be more effective than traditional courses as students can work at their own pace and focus on areas which are of most interest to them.
What is going to happen next?
The exponential growth in online courses available has already seen a boom in "stackable microcredentials" and "nanodegree" programs and this trend is likely to continue. Stackable microcredentials are short courses which can be combined together to create a bigger course or degree with the corresponding qualification or certification. This trend is in response to an increase in on-demand and micro-learning options: people study short, concise, relevant courses as and when they need them.
Keeping engagement high in online courses has always been something of an issue. Those courses which include components of gamification or find ways to keep the student engaged will be more popular than others. Gamification, when done well, can help to make e-learning more enjoyable and result in higher uptake and ongoing participation.
For educational organisations, machine learning and analytics will be important to help them to measure student performance and use this information to guide future developments. Depending on the sophistication of the analytics, it can also tailor the students' learning to their specific needs.
Mobile learning options are extremely important and this trend will continue. There are many reasons for this:
For many people in developing countries or with limited incomes smartphones are the only device they can use to learn. Courses will need to be fully responsive to be truly inclusive and accessible to these people.
Smartphones are the default device to use to follow micro-learning courses. Micro-learning courses are designed to be done in short periods of time, so they lend themselves to being done on the go when typically, students only have a smartphone.
Multi-device options are also relevant for bigger, more substantial courses providing students with the flexibility to use different devices depending on where they are studying and the devices they have available at any given time.
Inevitably creating a great student experience requires the integration of many different components: integrated tech platforms, the redesign of courses and delivery models, and the development of an educational infrastructure that will not only deliver but also enable universities to analyse and redefine their offerings to create exceptional learning experiences for everyone.
In order to do this many universities are developing their own online courses but, many are also partnering with third-party EdTech and online platform providers to advance progress and have access to expert knowledge.
How can we help?
We specialise in licensing online English and Spanish language course content to universities to use as part of core studies or as a resource to access from online libraries or resource centres. If you are interested in knowing more, fill in this form and we'll set up a meeting or send you information.
Sources:
BestColleges: https://www.bestcolleges.com/research/annual-trends-in-online-education/
Higher Education Partners: https://higheredpartners.co.uk/why-online-learning-in-higher-education-is-here-to-stay-a-trends-assessment/)
Higher Education Partners: https://higheredpartners.co.uk/edtech-how-technology-is-empowering-universities-to-deliver-high-quality-online-programmes/
Research.com https://research.com/education/online-education-trends